May
Kilmore Parish Patron and Field Day is held on the last Sunday in May.
June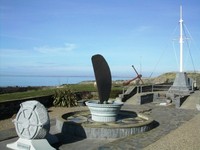 The memorial trail and garden is situated at Forlorn Point overlooking the sea and the Saltee Islands. A service is held each year remembering the people who are lost at sea.
Join the troops at the Military Re-Enactment and Vehicle Show in Duncannon.
Don't miss the Wexford Strawberry Festival in Enniscorthy!
Grange Patron is held the last Friday in June. Grange Cemetery, between Kilmore and Kilmore Quay, is a very old cemetery beside the ruins of an old church.
July
Kilmore Quay Seafood Festival is the highlight of the year in Kilmore Quay. A must for all seafood-lovers!
Look out for the Parish Barn Dance and BBQ!
Bannow and Rathangan Show, one of the biggest Agricultural Shows in the Southeast attracting up to 30000 visitors on the day. The Show is held each year on the second Thursday in July.
August
The blessing of the boats and Lifeboat Day take place in August.
October
The world renowned Wexford Festival Opera is held during the month of October. Events are held throughout the year at the Wexford Opera House. Click here for more information on events at Wexford Opera House
Other
Wexford Races are held throughout the year and is only a 20 minute drive from Kilmore Quay. Click here for the latest information on Wexford Racing
For information on all the latest events in Wexford
click here